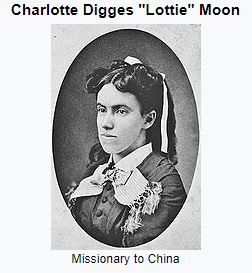 Standing just 4′ 3″ tall, Charlotte Digges "Lottie" Moon became a spiritual force to be reckoned with during her time as a Southern Baptist missionary to China. She spent nearly 40 years (1873–1912) living and working in China. As a teacher and evangelist she laid a foundation for strong support for missions among Southern Baptists, especially through the WMU.
Born December 12, 1840 and raised near Scottsville, Virginia, Lottie was the fourth of five girls. Unlike many women of that era, Lottie was well educated, as were her four sisters and two brothers. Known as a spirited and outspoken girl, Lottie caught fire for Christ during revivals held on her school campus in her early teens.
After her sister Edmonia accepted the call to go to China as a missionary, Lottie followed. Though health reasons caused Edmonia to soon return, Lottie remained for nearly forty years.
In the end, as war and poverty swept China, Lottie made a decision to share her meager finances and food with those she served. Sacrificing herself, she soon shrunk to only fifty pounds. When her fellow missionaries saw her, they were alarmed and sent her home. She died en route back to the United States on December 24, 1912.
We support the Lottie Moon offering to continue Lottie's work in the International Missions field.